India which has been long associated with its pluralism and secularism is slowly starting to disintegrate to form a different type of nation. A nation where Hindu ideologies and Hindutva rule the day. Through this singular effort the present government aims to create a one country, one language, one religion, one god. This is where the serious threat for freedom of expression and speech comes into play. Though this is secured under Articles 19 through 22 in the Constitution, this freedom has been under attack for a long time now.
As a fundamental human right, freedom of speech is up there with equality/ right of freedom to religion/ right against exploitation and et al., all forming a crux to build a better society. All of these rights and many more that we have or speak of were achieved by the collective freedom of expression. We have come a long way from the past where everyone was not allowed to vote or to study, where slavery was rampant, where property rights did not exist.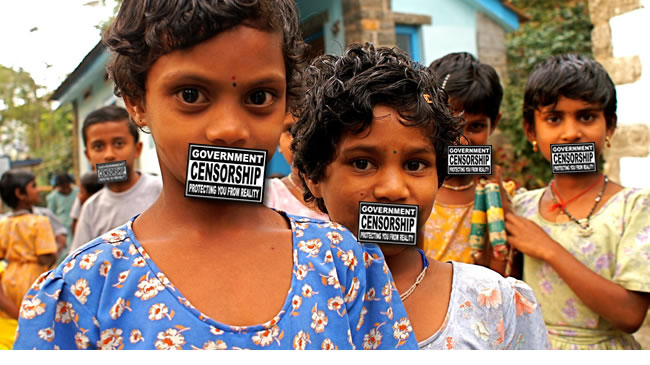 Accidental or incidental?
One may wonder if free speech is really under threat in India. Look no further. Below are only few of the most recent and shocking instances where citizens have been ordered to remain silent or be silenced. Life is the ultimate price many have paid for their words.
Protesting against superstitions and black magic cost Narendra Dabholkar his life in 2013. Hindutva critic M.M. Kalburgi was shot dead in 2015 followed by Communist leader Govind Pansare. 2017 saw the death of prominent Indian writer Gauri Lankesh for raising a voice against casteism and Hindutva.
Along with these murders, eminent writer Perumal Murugan was issued serious threats in 2014 by Hindu extremists for the novel Mathorubagan which he authored in 2010. Demanding unconditional apology from the writer, they pushed Perumal Murugan to give up writing and declare his death as a writer.
2017 marked another example of this when Viduthalai Chiruthaigal Katchi leader Thol.Thirumavalavan was said to have made statements that angered Hindu extremists again. A right wing activist even offered a reward of Rs. 1 Crore for Thiruma's head. Prior to Thiruma's incident, Valarmathi, a student was remanded for distributing pamphlets against Central Government projects in Nuvasal and Kathiramangalam. Later she was detained against Goondas Act.
More recently Lyricist Vairamuthu was under BJP's radar for his remarks on Andal and actress Deepika Padukone and filmmaker Sanjay Leela Bhansali were issued death threats regarding the release of their movie Padmavat. In similar fashion Tamil movie Mersal ran into legal issues relating to removal of scenes about GST. A plea was filed in Madras High Court to revoke the censor certificate of Mersal.Cartoonist Bala was charged with publishing defamatory and obscene material – all due to a image he created to highlight the plight of debtors against high interest charging loansharks.
Does freedom of speech really exist?
In some ways, yes. It lies within the right wing extremists and conservative groups who now use this freedom to politically correct and control all those who are not in tandem with their own idealogies and dogmas. By and large this control is supported by the existing government and also endorsed periodically – either by their blatant silence and non-objection to atrocities or by flexing their power to reiterate who is on top.
Why Freedom of speech?
Expression or the right to express gives a person courage to voice their thoughts and opinions without fear and hesitation. This freedom is instrumental in enabling self-development and gives birth to a person's participation in mainstream politics. While we have made it obvious that this freedom is crucial to maintain both independence and dignity, it also encourages rationalism.
Take a look at the family setup of today's India. How many children are being taught that free expression is an important life skill? How many parents encourage their children to speak up and question openly? We can all vouch for restriction of some sort. It may be covered with phrases ranging from "don't question your elders" to "you are so arrogant that you have to question everything". Unless this chain is broken at a family level there will be huge undercurrents of tension, fear, anger and resentment.
Moving to a broader perspective puts society in the spotlight. Freedom of speech and expression is essential to spread the right information and forms a part of the healthy development process of any nation. If there is anything history has taught us then it could be one wrought with misinformation, cover ups and blatant lies in some cases. Although not all history is marred by this lack of speech or freedom, numerous incidents or people have been changed and altered over the years to support or move forward either a political or economical cause across the world. If free speech is scuttled there will no growth to sustain and no history to write. The one who does not know history, will not create history.
The importance of free speech in any setup (democracy notwithstanding) cannot be stressed enough. Any idea, information or criticism should reach all corners. The moment this is withheld or stopped at certain junctures, a nation ceases to be a democracy. When no political action is possible, when no resistance to injustice or oppression is encouraged, when the single most important political right of the citizens is marred, the country automatically joins the ranks of other autocracies.
Neither the government nor elections will hold any meaning.
Under Modi Government?
Many observers and political critics have described the decline in quality of freedom of expression in India since Modi took office in 2014. In 2017, the World Press Freedom Index showed that India slipped 3 positions from the previous year and ranked 136 out of 179 countries. In India alone, more than 375 incidents including 11 deaths, 72 attacks and 77 internet shutdowns have occurred. Of these 77 internet shutdowns, Kashmir alone totals for 40.
To give one a full rundown of where and how India stands under the Modi Govt we can provide figures to attest the oppression of free speech. On the Economist Intelligence Unit Democracy Index 2017, India dropped 10 places and went from being 32nd to 42nd rank. A country that prides itself on being called one of the world's greatest democracy did not score well even in the media index where it is ranked at the 49th place. Today India is considered to be one of the most dangerous places to be a journalist. The rise of conservative religious ideologies coupled with a failure to protect religious minorities, marginalized communities make India a perfect hell for free speech and expression.
How India discriminates:
Much like the dichotomy that exists in most things, India has created a 2-way method to kill free speech. The government for its part unleashes this with laws and power by arresting hapless critics, slams defamation cases, bans events and restricts rallies or conferences. Anything it does not agree with will be held back and much worse destroyed. A much cruder, if not worse way to handle journalists or critics is by engaging extremists or Goondas who attack and kill in many cases for expressing their views.
Under the Modi Govt, India has continually faced a lack of access to freedom of speech and expression. While Modi's style of politics focuses on conservatism, the right wing forces in a secular country does nothing to enhance the unity in diversity concept that India has long taken pride in. Violence increases unchecked among the press field and minority communities just so they can be kept in check.
Free speech as we have witnessed time and again enables citizens to follow, understand, question and critique their elected representative. Quelling this has now resulted in BJP taking the lead in 14 states since 2014. While political pundits may very well call this a clear win for Modi and his ideologies, it also goes to show how much of a country is forced to think within a given box.
Where to now?
Even with freedom of speech and expression part of our right and constitution, India struggles to provide this to each and every citizen of hers. There is no one-two step program to enable free speech. As a country, as a culture and as one-third of the world's population, India and its citizens must be open and broad minded to accept criticism. Tolerance does not mean having 29 states in India. It means accepting and allowing all 29 to thrive independently and as one.
Change is the only way forward. Every citizen must be aware of their rights and must voice their opinions. Start within your own family. Allow children to question and do not thwart their ideas or thoughts. These are what move humanity forward. The moment the why's and how's disappear the desire to learn and grow die as well. In the end all we will be left with are sheeple.
Everyone has the right to freedom of opinion and expression; this right includes freedom to hold opinions without interference and to seek, receive and impart information and ideas through any media and regardless of frontiers - Universal Declaration of Human Rights
Never forget that freedom of speech is the single most important political right of every citizen. It is not and never should be considered a privilege. It is our fundamental right.
Unless we join together to protect all voices, we will end up losing our own.
- Vader